Waiting on Wednesday is a weekly meme created by genius Jill @Breaking the Spine. Alex and/or Diamond (Dee) will participate in this meme when we feel especially excited for an upcoming book release! Leave a comment with your WoW link / tell us if you're excited or what you're excited for. :h
Diamond's Pick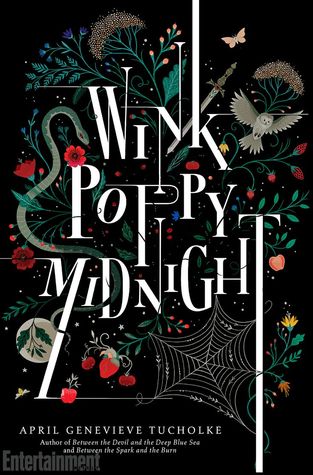 by April Genevieve Tucholke
Length: 352 Pages
Expected Publication Date: March 22, 2016
Publisher: Dial Books
Every story needs a hero.
Every story needs a villain.
Every story needs a secret.
Wink is the odd, mysterious neighbor girl, wild red hair and freckles. Poppy is the blond bully and the beautiful, manipulative high school queen bee. Midnight is the sweet, uncertain boy caught between them. Wink. Poppy. Midnight. Two girls. One boy. Three voices that burst onto the page in short, sharp, bewitching chapters, and spiral swiftly and inexorably toward something terrible or tricky or tremendous.
What really happened?
Someone knows.
Someone is lying.
Why Dee's Waiting:
I love this author. She writes quirky. She has a strong, unique voice. And that cover is gorgeous! I love the title, the blurb is excellent. I mean, it sounds like such a good mystery. And I don't even read mysteries that much >.< To be honest though, all of her books are on my TBR, ever since I read and LOVED :L Between the Devil and the Deep Blue Sea. I can't wait to read this one.


Are you planning to read it? Have you read her books before? Comment below!
*these are not affiliate links*
Alex's Pick
by Victoria Schwab
Length: 464 Pages
Expected Publication Date: June 7th, 2016
Publisher
: Greenwillow Books
The city of Verity has been overrun with monsters, born from the worst of human evil. In North Verity, the Corsai and the Malchai run free. Under the rule of Callum Harker, the monsters kill any human who has not paid for protection. In the South, Henry Flynn hunts the monsters who cross the border into his territory, aided by the most dangerous and darkest monsters of them all—the Sunai, dark creatures who use music to steal their victim's souls.




As one of only three Sunai in existence, August Flynn has always wanted to play a bigger role in the war between the north and the south. When the chance arises to keep an eye on Kate Harker, daughter of the leader of North Verity, August jumps on it.

When Kate discovers August's secret, the pair find themselves running for their lives and battling monsters from both sides of the wall. As the city dissolves into chaos, it's up to them to foster a peace between monsters and humans.




A unique, fast-paced adventure that looks at the monsters we face every day—including the monster within.
Why Alex is waiting:
If you're wondering why I'm waiting for this book then you probably haven't read a V.E. Schwab book before. Earlier last year I read
A Darker Shade of Magic
and thought it was an exceptionally well-done story with great writing and even greater characters. Her stories are also really unique. Who would have thought to write about a traveler that can travel through parallel Londons? Like Brandon Sanderson, the ideas behind the magic system are explained in full and there's barely any confusion.
If you would like to read my review it can be found
here
!
What books are you waiting for? Tell us!