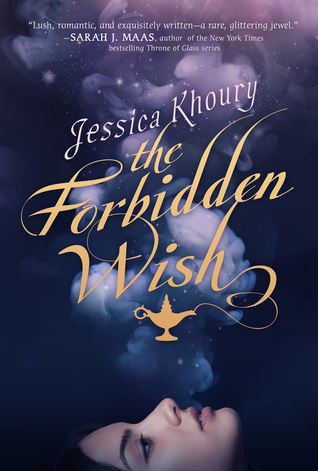 The Forbidden Wish by Jessica Khoury
Source
: eARC via Netgalley
Date
of
Publication
: February 23, 2016
Publisher
: Razorbill
My Rating
: 5 of 5 stars :star :star :star :star :star
*I received a sample of this book from the publisher in exchange for my honest review.
NOTE
: This is just a review of the first part of the book, not the whole book ;)
Okay, wow. First of all, you guys know I avoid samplers like the plague. Ever since, well, the last one I actually read was for The Young Elites and wow that fucked me up. Seriously. It was so good and then it just cut off and I Felt like, I HAVE TO HAVE THIS NOW. It was bad. I swore I'd never do it again. Then, I see this gorgeous cover on Netgalley and I see its just a sampler so I swear I'll wait at least until its published so I can secure a copy before I read it. Did I do that? NO, of course not xP
After all, I am obsessed with genie / djinn / jinni books. Of all kinds. Set in the Middle East, concerning mythology of my ancestors? Yes, please! I mean, my reviews of
Exquisite Captive
and The other one…
The Fire Wish
tell you more if you are interested in a middle eastern person's perspective on the writing of our mythology in YA ;)
Anyway, to the story! The story started off pretty "meh." I say "meh" not because it was bad just because it was very ordinary YA trope book we have the scene set and the heroine blah blah. A boy approaches… blah blah.. she's locked in a cave for a thousand years blah blah… she keeps referencing someone named "habibi" (means my love, in Arabic). By the end of the sampler, we kinda of know who that is, but
we don't know what went down between them
.
Of course there's a princess. A rebellion. A theif (think: Aladdin but immature af). And the jinni who may or may not have kind of backstabbed her best friend in the past? It's unclear but I definitely want to see how this story plays out.
[Yeah, if anyone has a copy of this they want to trade for please let me know! You can tweet me
@DiamondCronen
]
So, there you have it. So far it's a fun book that sunk its hooks into me and now I'm biting my fingernails waiting for February 23rd… ^_^