Nightfall by Jake Halpern and Peter Kujawinski
The Accident Season by Moira Fowley-Doyle
The Appearance of Annie Van Sinderen by Katherine Howe
Survive the Night by Danielle Vega
Blood and Salt by Kim Liggett
Slasher Girls and Monster Boys edited by April Genevieve Tucholke
Have you guys heard about the Twitter sweepstakes coming up called #TwitterGhostStory, which is a week-long event (taking place 10/26-10/31) in which you can write a spooky story in 140 characters or less using #TwitterGhostStory to enter for the chance to win a prize pack of the featured titles. A lot of Penguin authors will be participating! Keep an eye out for lots of Penguin Teen Tumblr activity as well!
Be on the Lookout for these books that are WICKED good vD
Blood and Salt by Kim Liggett
Publisher: G.P Putnam Son's Books for Young Readers
Date of Publication: September 22nd, 2015


Romeo and Juliet meets Children of the Corn in this one-of-a-kind romantic horror.
"When you fall in love, you will carve out your heart and throw it into the deepest ocean. You will be all in—blood and salt."
These are the last words Ash Larkin hears before her mother returns to the spiritual commune she escaped long ago. But when Ash follows her to Quivira, Kansas, something sinister and ancient waits among the rustling cornstalks of this village lost to time.
Ash is plagued by memories of her ancestor, Katia, which harken back to the town's history of unrequited love and murder, alchemy and immortality. Charming traditions soon give way to a string of gruesome deaths, and Ash feels drawn to Dane, a forbidden boy with secrets of his own.
As the community prepares for a ceremony five hundred years in the making, Ash must fight not only to save her mother, but herself—and discover the truth about Quivira before it's too late. Before she's all in—blood and salt.
Nightfall by Jake Halpern
Date of Publication: Sept 22nd, 2015
Pubisher: G.P Putnam's Sons
The dark will bring your worst nightmares to light, in this gripping and eerie survival story, perfect for fans of James Dashner and Neil Gaiman.
On Marin's island, sunrise doesn't come every twenty-four hours—it comes every twenty-eight years. Now the sun is just a sliver of light on the horizon. The weather is turning cold and the shadows are growing long.
Because sunset triggers the tide to roll out hundreds of miles, the islanders are frantically preparing to sail south, where they will wait out the long Night.
Marin and her twin brother, Kana, help their anxious parents ready the house for departure. Locks must be taken off doors. Furniture must be arranged. Tables must be set. The rituals are puzzling—bizarre, even—but none of the adults in town will discuss why it has to be done this way.
Just as the ships are about to sail, a teenage boy goes missing—the twins' friend Line. Marin and Kana are the only ones who know the truth about where Line's gone, and the only way to rescue him is by doing it themselves. But Night is falling. Their island is changing.
And it may already be too late.
Slasher Girls and Monster Boys by April Genevieve Tucholke
Date of Publication: August 18th 2015
Publisher: Dial Books
For fans of Stephen King, Neil Gaiman, Lois Duncan, and Daphne Du Maurier comes a powerhouse anthology featuring some of the best writers of YA thrillers and horror

A host of the smartest young adult authors come together in this collection of scary stories and psychological thrillers curated by Between the Devil and the Deep Blue Sea's April Genevieve Tucholke.
Each story draws from a classic tale or two—sometimes of the horror genre, sometimes not—to inspire something new and fresh and terrifying. There are no superficial scares here; these are stories that will make you think even as they keep you on the edge of your seat. From bloody horror to supernatural creatures to unsettling, all-too-possible realism, this collection has something for any reader looking for a thrill.
Fans of TV's The Walking Dead, True Blood, and American Horror Story will tear through tales by these talented authors:
Stefan Bachmann
Leigh Bardugo
Kendare Blake
A. G. Howard
Jay Kristoff
Marie Lu
Jonathan Maberry
Danielle Paige
Carrie Ryan
Megan Shepherd
Nova Ren Suma
McCormick Templeman
April Genevieve Tucholke
Cat Winters
The Accident Season by Moira Fowley-Doyle
Publisher:
Date of Publication: August 18, 2015
Goodreads


It's the accident season, the same time every year. Bones break, skin tears, bruises bloom.
The accident season has been part of seventeen-year-old Cara's life for as long as she can remember. Towards the end of October, foreshadowed by the deaths of many relatives before them, Cara's family becomes inexplicably accident-prone. They banish knives to locked drawers, cover sharp table edges with padding, switch off electrical items - but injuries follow wherever they go, and the accident season becomes an ever-growing obsession and fear.
But why are they so cursed? And how can they break free?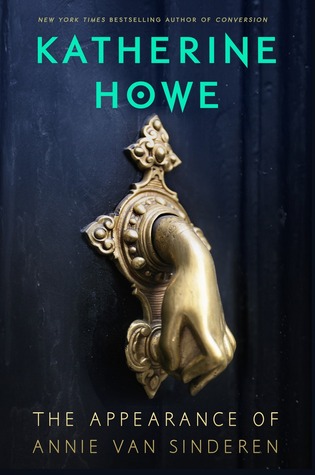 The Appearance of Annie Van Sinderen by Katherine Howe
Publisher: GP Putnam Son's Books
Pub Date: September 15th, 2015
Goodreads

A haunting, contemporary love story from the New York Times bestselling author of Conversion
It's summertime in New York City, and aspiring filmmaker Wes Auckerman has just arrived to start his summer term at NYU. While shooting a séance at a psychic's in the East Village, he meets a mysterious, intoxicatingly beautiful girl named Annie.
As they start spending time together, Wes finds himself falling for her, drawn to her rose petal lips and her entrancing glow. But there's something about her that he can't put his finger on that makes him wonder about this intriguing hipster girl from the Village. Why does she use such strange slang? Why does she always seem so reserved and distant? And, most importantly, why does he only seem to run into her on one block near the Bowery? Annie's hiding something, a dark secret from her past that may be the answer to all of Wes's questions .
Don't these books sound AMAZING?!?! Perfect spooky reads for Halloween? Can anyone guess which one I chose to read this Halloween?
*Drum Roll*
SALT AND STORM! By Kim Liggett. I just thought it sounded so spooky and although it was a hard choice ;) I know I will be asking all you guys (if anyone has already read) any of these books what you thought of them! Do you want to read any of these?
Comment below!