Diamond Recommends is a feature I started on the blog where I recommend some books to you that you may not (or may) have heard of! They are all books I have personally read and loved, and I share my reasons why I think they should be read.
This 3rd edition of the feature is a continuation of the graphic novel recommendation that I started earlier this year. I haven't done any recent recommending because I've been very busy reading all these (and many more) graphic novels! :i
While packing for my upcoming move, I had to go through my comics collection. I have a lot of issues of comics from when I used to subscribe. This was back when I couldn't wait that long until a graphic novel was released and just HAD TO HAVE IT NOW. >.< So while I was doing this there was a beautiful re-emergence of memory…so many lovely stories and I had almost forgotten them! I vowed to make up for my horrible error and spread my recommendations among my helpless followers. :v *evil laughter* To get back at me, recommend a graphic novel to me in the comments!
My Rating: 5 of 5 stars :star :star :star :star :star
My Review of Nimona HERE
Publication Date: May 12, 2015 via HarperTeen

The graphic novel debut from rising star Noelle Stevenson, based on her beloved and critically acclaimed web comic, which Slate awarded its Cartoonist Studio Prize, calling it "a deadpan epic."
Nemeses! Dragons! Science! Symbolism! All these and more await in this brilliantly subversive, sharply irreverent epic from Noelle Stevenson. Featuring an exclusive epilogue not seen in the web comic, along with bonus conceptual sketches and revised pages throughout, this gorgeous full-color graphic novel is perfect for the legions of fans of the web comic and is sure to win Noelle many new ones.
Nimona is an impulsive young shapeshifter with a knack for villainy. Lord Ballister Blackheart is a villain with a vendetta. As sidekick and supervillain, Nimona and Lord Blackheart are about to wreak some serious havoc. Their mission: prove to the kingdom that Sir Ambrosius Goldenloin and his buddies at the Institution of Law Enforcement and Heroics aren't the heroes everyone thinks they are.
But as small acts of mischief escalate into a vicious battle, Lord Blackheart realizes that Nimona's powers are as murky and mysterious as her past. And her unpredictable wild side might be more dangerous than he is willing to admit.
My Rating: 5 of 5 immortal stars! :star :star :star :star :star
Date of Publication/Publisher: October 10, 2010 by Dark Horse Comics
Genres
: Fantasy, Japanese Mythology, Samurais, Action, and Tatoos!
After a swordfight, Amane, a young samurai with a haunted past, is left for dead—only to be saved by a mysterious tattooist who imbues Amane with the immortal spirit of an oni demon. From that day on, Amane ages no more. Amane learns of another with a similar oni—one that requires its host to kill—which leads Amane to the realization that the "other" is the man who murdered his sister years ago. But when his decades-long quest for the murderer causes him to cross paths with a maniacal serial killer intent on murdering the woman Amane loves, the only one who can help him is the man who killed his sister. Collects the four-issue miniseries.
Fantasy, Japanese Mythology, Samurais, Action, and Tatoos! I mean…what more can I say? This was a one shot released by Dark Horse that never got the attention I believe it deserved. It's amazing. Amazing enough for me to have all the issues and buy the graphic novel. I don't do that very often…(ahem..not counting if I buy a paperback even though I have a hardcover or buy a whole series so the covers match. Do they count on us obsessive book collecting lovers to go out and buy all he books again?! Because it's working!!Grrr… :V ANYWAY haha off track there.. So yeah, this book.
If you liked INK BY AMANDA SUN but wanted it to have more blood tattoos and fighting, like, say Underworld by my woman crush Kate Beckinsale. LOOK NO FURTHER…you have found the perfect blend of action movie female goodness (except a male, with a hot body and crazy glowing green tattoos) oh and lots of amazing Japanese art and graphics and mythology sneaked in there!
Who said I needed a proper review for all these? haha :P
Next time I'll make sure to have a proper review, sorry
--What I have been Recommended--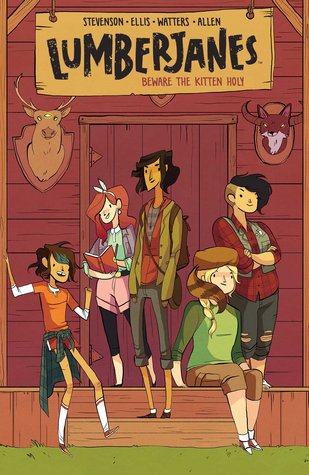 Lumberjanes
by Noelle Stevenson, Ellis, Watters, & Allen
Date
of
Pub
/
Publisher
: April 7th, 2015 by BOOM! Studios
Pages
: 128 pages
Genre
: Contemporary, Young Adult
FRIENDSHIP TO THE MAX!
At Miss Qiunzilla Thiskwin Penniquiqul Thistle Crumpet's camp for hard-core lady-types, things are not what they seem. Three-eyed foxes. Secret caves. Anagrams. Luckily, Jo, April, Mal, Molly, and Ripley are five rad, butt-kicking best pals determined to have an awesome summer together... And they're not gonna let a magical quest or an array of supernatural critters get in their way! The mystery keeps getting bigger, and it all begins here.
Collects Lumberjanes #1-4.
This sounds SO good to me! As soon as it was recommended to me by my favorite robot, the Amazon recomender… (not as good as a blogger, but hey, sometimes my blogger friends get tired of yelling at me to read books) ;) Anyway I checked it out and it was one of those rare times that I actually thought WOW I would read this. Then…a bit of snooping on Goodreads later and I'm continually watching the sales so that when it goes down low enough that I can justify buying another graphic novel I will! :P Flawless plan, eh?
I reverse this recommendation post and ask YOU: Have you read Lumberjanes? Did you like it? Do you recommend me to read it?
What about the other graphic novels featured? Have any of you read any of them?
—Thank you for reading my recommendations! Stay tuned for next time and as always leave a comment below :)