Part 3 of a new feature based on the same vein as the previous two posts

in which I recommend various graphic novels that I've read and loved throughout the years.

I organize it by genre in order to present the clearest choice to those who are new/considering reading graphic novels for the first time. It seems I've gotten a lot of love from those who dig them too, so welcome! :h I'm really delighted by the feedback on this feature. The only thing I'm adding now that it's an official feature is some mini-reviews on most several of the books (as I feel compelled to explain some of these choices/want to convince you)…unless I recently wrote a review and don't feel like I need to add anything else :O
Remember: Click on the Covers to see the Goodreads Page!
Humor | Classics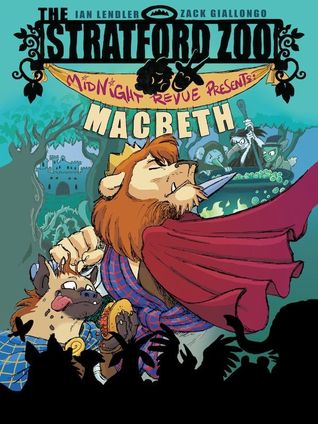 The Stratford Zoo Midnight Revue Presents: Macbeth
I read this last year, and laughed out loud so hard! It's one of the
funniest graphic novel's I've ever read. [
Read my review HERE.]
It's basically a zoo of animals who, at night, when no one is about stage magnificently hilarious Shakespeare plays! This is the first of a continuing series, next up is Romeo and Juliet later in 2015.
It may seem like MG, but don't be fooled! It's a light, hilarious read with jokes clearly intended for adults/ya.
Young Adult
House of Night Vol. 1


I don't care if you HATE THIS SERIES. Just, hear me out.
I didn't finish the series either, but this is the best damn YA adaptation I've read thus far. It's less about Zoey ( :tup) and more about the myths and lore of the vampires in their world. It combines history with fantasy and the bond that the vampires have with their consorts (humans who drink their blood and receive sexual pleasure) :k (I wish I could have a consort and a warrior *sighs*)
This graphic novel has pretty much the origin stories that we never get in the series. Which, is a SHAME because I find it more interesting than the books themselves. There are 6 different stories for each of the different affinities.
For example we get to see (with glorious graphics) Cleopatra take Marc Antony as her consort (yeah, it's steamy)..and a lot more but I don't want to spoil too much. >.< Ok, I will tell ya this: think frozen tundras with Vikings and two battered sisters making a stand and kicking ass against the men who abused them. Oh how I wish they'd pump out a few more of these instead of all those stupid novellas….


Horror-Zombies
Afterlife with Archie Vol. 1
This is an award winning graphic novel I reviewed earlier this year. All you need to know is if you like Zombies..,or are just an old Archie ned Veronica fan like myself, you'll really get a kick out of this one. Also, it made many lists of Best Graphic Novels of 2014. I know I saw it on Barnes & Nobel's list and Amazon's too. It was even featured in a bunch of legit comic-lovers blogs and websites (none of which I have links to, so if you have a link send it to me because I'm way too lazy busy ..heck, it's 2am and I have to get up at 8, so yeah. just trust me. it was recognized, yo!
THEY'RE MAKING A VOL. 2! It's like, LEGIT bringing Archie into being seriously recognized as a graphic novel and publishing company. Which I'm happy about, because who doesn't love Betty and Veronica? Ok, maybe a lot of people. But even those who don't have liked this. That is why I'm featuring it. It's SO dark and twisted; erase everything you think you know about Riverdale and it's happy-go-lucky theme. :v


Steampunk
Soulless by Gail Carrier (Parasol Protectorate #1)
Manga based on Gail Carriger's Parasol Protectorate Series
I have read the series (love it) and I loved this Manga portrayal,
even though I usually don't buy a ton of Manga, I did enjoy this.


Gonzo Journalism | Dystopian | Fiction
*Perfect for fans of Hunter S. Thompson*
Transmetropolitan Vol. 1: Back on the Street
by Warren Ellis
After years of self-imposed exile from a civilization rife with degradation and indecency, cynical journalist Spider Jerusalem is forced to return to a job that he hates and a city that he loathes. Working as an investigative reporter for the newspaper The Word, Spider attacks the injustices of his surreal 23rd Century surroundings. Combining black humor, life-threatening situations, and moral ambiguity, this book is the first look into the mind of an outlaw journalist and the world he seeks to destroy.
This is one of my favorite graphic novels. I'm a big fan of Hunter S. Thompson and the Gonzo style Journalistic writing, which, in my opinion is a modern day beatnik lit. If you like Dystopian worlds with snarky and marjorly flawed cynics, then you need to check this out. It's a rather old graphic novel series, so maybe you've heard / seen it around. I'm including the Goodreads Blurb, but basically just think: crazy writer who is isolated from society (set in the future), comes down into the city from atop his cabin to write another story. As he rejoins civilization, the reality of what humankind has become is shocking and his cynical attitude had me laughing …and cringing. lol.
—————————
So, did I convince you to read any of these? Have you read any of these?

Do you still feel like you haven't found a graphic novel that fits "your" tastes? Explain your tastes in the comments and I'll find something that fits you and feature it!




-Diamond :h