Waiting on Wednesday is a weekly meme hosted by the ladies @ Breaking the Spine. It entails some of the books that we are eagerly waiting for! Wow there are a lot of books to come in the month of October so this is kind of a hard pick! ^_^
Alex's WoW Pick
Title: Willful Machines
Author: Tim Floreen
Pages: 370 pages
Published: October 20th, 2015
Genre: Futuristic, Robots, Science Fiction
In the near future, scientists create what may be a new life form: an artificial human named Charlotte. All goes well until Charlotte escapes, transfers her consciousness to the Internet, and begins terrorizing the American public.




Charlotte's attacks have everyone on high alert- everyone except Lee Fisher, the closeted son of the US president. Lee has other things to worry about, like keeping his Secret Service detail from finding out about his crush on Nico, the eccentric, Shakespeare-obsessed new boy at school. And keeping Nico from finding out about his recent suicide attempt. And keeing himself from freaking out about all his secrets.




But when the attacks start happened at his school, Lee realizes he's Charlotte's next target. Even worse, Nico may be part of Charlotte's plan too.




As Lee races to save himself, uncover Charlotte's plan, and figure out if he can trust Nico, he comes to a whole new understanding of what it means to be alive... and what makes life with living.


Pre-order!
Goodreads | Amazon | Book Depository
This book screams science fiction and terror to me. I love the LGBT aspect in a futuristic book because it's so unique and unlike anything I've ever seen before. I requested an early copy from Simon Pulse so hopefully *praying and crossing fingers* that I get a chance to read and review this bad boy at an earlier date for you guys!


Diamond's Pick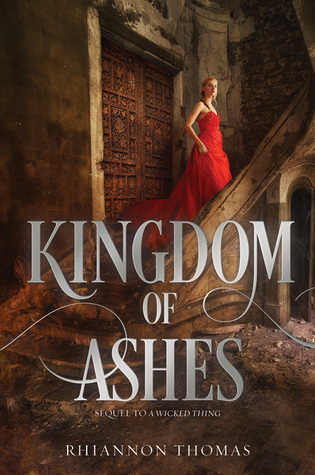 Author: Rhiannon Thomas
Pages: 368 pages
Expected Publication: Feb 23rd, 2016 // HarperTeen
Genre
: Fairy-tale retelling, young adult, fantasy
Asleep for a hundred years, awoken by a kiss, Aurora's life was supposed to be a fairytale. But since discovering that loyalty to the crown and loyalty to her country are two very different things, Aurora knows she can only dream of happily ever after. Once the enchanted princess, savior of her people, she is now branded a traitor.
Aurora is determined to free her home from the king's tyrannical rule, even if it means traveling across the sea to the kingdom of the handsome and devious Prince Finnegan—someone who seems to know far more about her magic than he should. However, Finnegan's kingdom has perils of its own, and any help he gives Aurora will come at a price.
As Aurora and Finnegan work together to harness her power—something so fiery and dangerous that is as likely to destroy those close to Aurora as it is to save them—she begins to unravel the mysteries surrounding the curse that was placed on her over a century before…and uncover the truth about the destiny she was always meant to fulfill.
Brimming with captivating fantasy and life-threatening danger, the sequel to A Wicked Thing takes Sleeping Beauty on an adventure unlike any she's ever had before.
Goodreads
|
Review of A Wicked Thing
|
I would love to read this book because it's one of those series that could go either way…but I really am hoping it's amazing. There's potential here to be even better than the first book, A Wicked Thing! I think since the framework is established in the first book that we really can get into what Aurora is going to / has grown into be as a character. So I'm very excited for this one, especially since I'm on a fairy tale retelling kick lately and it seems the world is with me ;)
What are your WoW picks? Have you heard of this book?