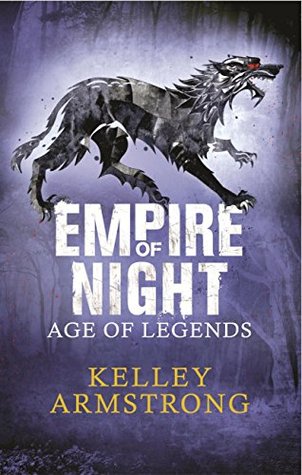 Empire of Night by Kelley Armstrong
Series
: Sea of Shadows #2
My Rating:
4.5 of 5 stars :star :star :star :star 1/2
Source
: Paperback copy (own)
Publisher
: HarperCollins
Date of Publication:
April 1st, 2015
424 Pages //
Goodreads
Sisters Moria and Ashyn are the Keeper and Seeker of Edgewood. Or at least, they were.

Their village is gone. Their friends have betrayed them. And now, the emperor has sent them on a mission to rescue the children of Edgewood—accompanied by Prince Tyrus and a small band of imperial warriors. But the journey proves more perilous than they could have imagined. With treachery and unrest mounting in the empire, Moria and Ashyn will have to draw on all their influence and power to overcome deadly enemies—not all of them human—and even avert an all-out war.
My Review
Although I read Sea of Shadows last year, it wasn't one of my favorite fantasies. I felt like the story was great and it had a ton of potential (the world was amazing) but I mainly felt the best part was the ending/last part of the book. It definitely was a cliffhanger and the last portion of the book really got great and had me really sad it ended. So, when Empire of Night was released I decided to buy a copy (I mean, look at that cover!) because I had a good feeling about it. Plus, I was in the mood for a young woman to kick some ass.




Moria and Ashyn are sisters and Keeper and Seeker, revered positions they are born into and also, I may say, positions that completely fit their personalities. Ashyn is more shy, feminine, and socially graceful…she communes with the spirits. Moria, who also hears the spirits is the warrior who battles them and knows her way around a sword. She's not so much a romantic, although I'm happy to say she does find love (in all the right places, ahem..) in young bastard prince Tyrus. *sighs* I really love Tyrus. We get a lot more of him in this book. We also see a lot more of Moria. This book (and the last) have chapters split up into both Moria and Ashyn narrators.
So this is what all the fuss is about. This is what the bards sang about. What Ashyn swooned about. And it wasn't nearly as silly or pointless as she thought.
If you are a high fantasy lover like me, you probably feel as I do about how important balance can be. I really felt like this sequel had balance of romance, adventure, mystery, twists, and friendship/character development that is so important to have in a high fantasy novel. Whereas the last book had more of a world-building / character developing plot with so much back and forth I got a headache :|| this one was way different! I felt that, although Moria did have more emphasis than her sister Ashyn did, I didn't mind at all. It gave the novel more balance and I really did enjoy seeing Tyrus and Moria fall for each other. They're so cute! :L
I've officially shipped Tyrus + Moria.
:k
Overall I would recommend this series to lovers of high fantasy an badass female characters who have to have their weapons near by… ;)
If you have read Sea of Shadows and liked it (even just a little) you NEED to read this book! It's excellent and way better than the first book. It's a series I am excited about and I'm definitely waiting impatiently for the next book! :O