So I haven't done a WoW post in FOREVER. Okay, at least a year! I decided that I just have to cave and do a post. I think once you read my reasons why I'm waiting for this, you'll understand :P
What Dee's Waiting For….
The Pirate Code (Hook's Revenge #2) by Heidi Schulz
Expected Date of Publication: September 15th, 2015
Publisher: Disney Hyperion
Fresh off her victory over the Neverland crocodile, Jocelyn Hook decides the most practical plan is to hunt down her father's famous fortune. After all, she'll need the gold to fund her adventuring in the future. (And luckily, Hook left her the map.)

But the map proves to be a bit harder to crack than Jocelyn had hoped, and she's convinced that the horrible Peter Pan might be the only one with the answers. Of course, he doesn't really feel like helping her, so Jocelyn takes the only reasonable course of action left to her: she kidnaps his mother. Evie, though, is absolutely thrilled to be taken prisoner, so Jocelyn's daring ploy doesn't have quite the effect she'd planned for.
Along with the problem of her all-too-willing captive, Jocelyn must also contend with Captain Krueger, whose general policy is that no deed is too dastardly when it comes to stealing Hook's treasure. And with the ever-shifting Whens of the Neverland working against her as well, Jocelyn, Evie, Roger, and the rest of the Hook's Revenge crew have their work cut out for them.
In this rambunctious showdown between characters new and old, Jocelyn puts her own brand of pirating to the test in a quest to save her future and those she loves.
I really can't wait for this!!! I saw the cover on Goodreads the other day and just got SO happy! :O I mean, isn't it just gorgeous?! I read
Hook's Revenge
last year and adored it. It was my number one favorite Middle Grade book I read in 2014! Which is saying a lot since I read more MG last year than any other genre. Oh I just can't wait to read all about Jocelyn and what happens in Neverland.
[
Goodreads
]
Alex's WoW Pick...
Miss Mayhem (Rebel Belle #2)
Expected date of publication: April 7th, 2015
Publisher: Putnam Juvenile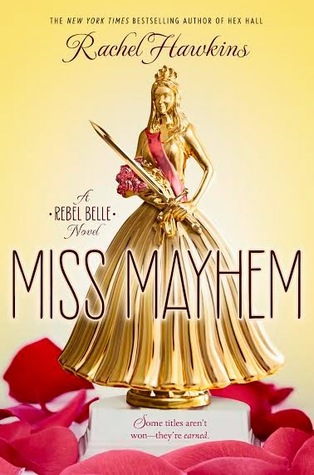 Life is almost back to normal for Harper Price. The Ephors have been silent after their deadly attack at Cotillion months ago, and best friend Bee has returned after a mysterious disappearance. Now Harper can return her focus to the important things in life: school, canoodling with David, her nemesis-turned-ward-slash-boyfie, and even competing in the Miss Pine Grove pageant.

Unfortunately, supernatural chores are never done. The Ephors have decided they'd rather train David than kill him. The catch: Harper has to come along for the ride, but she can't stay David's Paladin unless she undergoes an ancient trial that will either kill her... or connect her to David for life.
I'm just so darn excited that the author decided to continue this series! The first book caught me off guard because it was so flipping fantastic and I had just received it from a friend who said it was a pretty dark good book. Great characters and lots of action! Really any supernatural romance reader's type of book!


What are some of your WoW picks? We'd love to see links to your posts!