June
is what you call the month where the season of summer finally takes over. Beaches are opened, swimmers and beach-goers are sprawled out in the sun. It can't get any more better than this! Oh wait, actually it can! Summer means no school and no school means more READING. So without further ado, we present our fun-in-the-sun month of
June! ^_^
Diamond's Wrap Up
..because my friends are awesome!
--------
Blog News: Be on the lookout for a brand NEW blog design here @ Dee's Reads! When the new design goes live (this weekend) there WILL be a giveway and there WILL be squealing (hopefully with delight, and not terror) :P haha are you excited?
Dee News:
Things with me are very ...hectic! I am in a transition as my move in date looms closer (first week of August!) I am busily organizing boxing and trading books as fast as possible so that I don't arrive at my new (extrmely small) studio apartment and find that I have NO ROOM FOR MORE BOOKS. I mean, #nightmare. O.o lol jk.. but I did actually get quite a bit of reading in this month all things considered.
*My favorite book I read this month* I have to say it was
Illusionarium
by Heather Dixon! For graphic novel (I read enough to count them separate—okay? :P )
Nimona
by Noelle Stephenson which I gave a hearty 5 stars :star :star :star :star :star!
Other than that I happily enjoyed the 4th of July early this year with family as the town where my aunt and uncle and cousins live had a great fireworks show this past weekend! :rainbow It was really fun and I took some great pics too :) Of course the blurry fireworks pics were a must haha. There was persian dancing (which I was uninhibited enough to do) and I even met new people and made a new friend!
So cheers to keeping our heads up during the crazy-ness that is this summer. and CHEERS TO YOU for following me despite the somewhat boring state of this blog.
I PROMISE YOU IT WILL BE WORTH IT
THIS BLOG IS GOING TO GET MORE AND MORE EPIC THIS SUMMER.
JUST YOU WAIT AND SEE. ;) ;) ;)
Alex's Wrap Up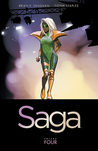 Thanks Penguin RH for the advanced copy!
These are all the books that I read in June. I'm super super proud of how much I read considering all the finals and regents that were happening at the same time. Reviews of these books are all linked if they have been reviewed. For the most part, everything I read in June really put me in a good mood. I was content with everything I read and if I had to choose my favorite, it would have to be
Daughter of Deep Silence by Carrie Ryan
! That book really impressed me when I thought it was just supposed to be some romantic thriller.
Notable Posts of June
Reviews of June
Nimona
(graphic novel) (ARC)
Mariana by Susanna Kearsley
The Golden Compass (ARC)
(graphic novel)
Illusionarium by Heather Dixon
(ARC)
The Cellar by Natasha Preston
The Ice Dragon by George R.R. Martin
Monstrous (ARC)
by MarcyKate Connolly
Other Posts
#BooksForTrade
(
updated
: check it out still lots of books!)
A Book Lover's Summer Must Haves
Waiting on Weds: What we're waiting for!
Etsy Raves: Nook and Burrow bookmarks
Top 10 Books on our TBR this summer
!
Dust Off Your Classics Challenge: A Midsummer Night's Dream
Alex discusses "
My YouTube Experience Thus Far
"
**remember to stay tuned for a

new

design

,

giveaway

, and

survey

where we ask

YOU

what you want to see on the blog**
- Alex :rainbow
Diamond
:rainbow
Comment below:
don't forget to include links to your wrap up post